The Restaurant
The search for Swedish Comfort starts here!
Welcome to the restaurant with no name, a restaurant in central Stockholm, at Hotel C Stockholm!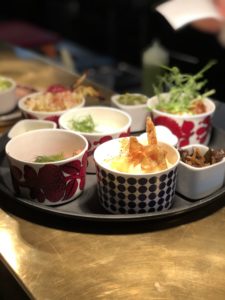 You are about to step into our public laboratory, where gastronomic experiences will be tested on you! Don't worry it will be fun!
The menu, decor, tables, cutlery, music, drinks, basically everything will evolve and be unveiled in the following months. In January 2019 a brand new restaurant experience will be born. Did we say we're excited? You have no idea!
What are we searching for in this experiment? Well, the taste of Swedish Comfort!
Salt, Acidity & (real) Sugar in combination with amazing produce is our definition of the Swedish flavor. Through modern techniques we will "hijack your senses". What does that mean? Well, in today's society almost all the food we consume is industrially produced. Many people never come in contact with real produce anymore. Our taste buds are reprogrammed and to some extent we have lost contact with genuine and natural flavors. We want to change that! That's why we will kidnap your senses and lead you back to natural, sentimental and amazing Swedish flavors. We hope you will leave our restaurant full of trust, affection and a longing to come back soon. So let's get started! Step right in, have a seat and let us kidnap your senses today. Welcome!
See menu
Book online